Last week saw the grand inauguration of The Shard, the tallest skyscraper in Europe, standing at an impressive 309.6 meters. The whole world watched as a spectacular laser show lit up the capital's skyline: there is no question that everyone's eyes are on The Shard.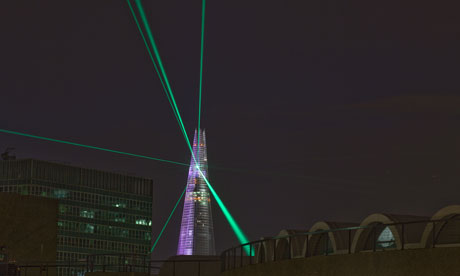 The grand inauguration of The Shard (photo credit to Veronika Lukasova/Zuma Press/Corbis)
With 72 habitable floors and a viewing deck housed at a lofty 245 meters, London's Shard offers visitors a unique experience of our capital, with spectacular 360-degree views from the city's highest accessible viewing point, extending across an incredible 40-mile radius. These public observation galleries will allow visitors to look upon past, present and future architecture spread right out to their periphery, offering tourists the chance to encounter the diversity and vibrancy of the capital from a new and exciting angle. The Kaleidoscopic lifts will take visitors up from the 68th floor to the 72nd, through the cloud line and up onto a new plan of viewing, offering a whole new viewing experience. This impressive addition to London's skyline is dressed in 11,000 glass panels and offers a slick juxtaposition to the traditional brick architecture of St. Paul's, Big Ben, Tower Bridge and the Monument. The Shard's viewing observatory is due to open to the public in February 2013, and advanced tickets can be purchased at £24.95 for adults and £18.95 for children.
Be sure to organize a visit to The Shard on your next trip to London, or you are making a return trip, take in the city and its world famous skyline from the most extravagant viewing point in Europe. If the five star international Shangri-la Hotel and Spa of the 34th to 52nd floors are a bit out of your price range, have a look at our Southwark apartments, offering you the same amenities and transport links as the rich and famous. Stand above the most sought after properties on today's market and view the city from a fresh and vibrant angle.